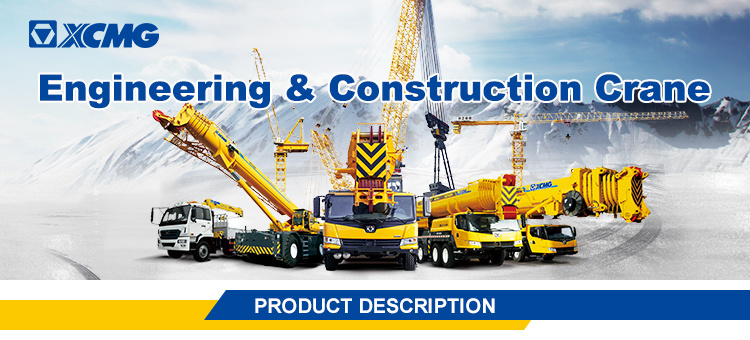 Hot Sale XCMG Qy50ka Truck Crane 50 ton hydraulic mobile crane Price
Main parameters:
Max. rated total lifting capacity:50T
5 sections "U" type main boom : 44M
Fully extended boom+jib:58M

Main configuration:
*WD615.338(276 kw)
* Wire rope
* Hirschmann PAT
*Heater
*Full dimension cab
*A/C

XCMG QY50KA structure is compact, the industry operating performance is the highest.Lifting performance and driving performance of a comprehensive upgrade, leading competitors.Dual-pump confluence technology, operating efficiency of a comprehensive lead.

1.Leading lifting anddriving performances
Five section U-type booms. The boom length is 11.4m-43.5m with strong lifting performance, leading 5%-10% ahead of products with the same tonnages in the same industry.
High-power engine with good dynamic performance, strong gradeability and superior trafficability. The maximum gradeability and maximum travel speed respectively are 42% and 85km/h.

2.Reliability ofheat dissipation, electrical system etc. has been improved with safer operationand driving
Waterproof connector clip. It is equipped with rubber sheath inside with excellent water impervious and level of protection reaches to IP65.
Aluminium alloy fuel tank. Good appearance quality, corrosion resistance, strong shock resistance capacity.
Double- broken line winch. The hoisting rope is in alignment, and it will be more reliable if turn off the press-rope machine.
Optimized heat-removal system. The air-conditioning condenser is separately installed, the heat-sinking capability is sharply improved and the environment temperature reached to more than 45ºC.

3.Air-aid shift gears and 45% of shifting forceis reduced
Special air-aid shift gears protection mechanism. The boost system will work only by stepping on the clutch that effectively avoids gearbox damaging gears when shifting. Compared with the same industry, 100mm distance of shift gears and 45% of shifting force are respectively reduced.

4.Apearance molding isnewly upgraded, humanized design andcomfortable riding manipulation
New operating house, wheel house, engine hood and machine shed, novel appearances, fine lines of the complete machine appearance, shows its elegant appearance.

.Main Technical Data Table in Travel configuration
Description
Unit
Parameter value
Overall length
mm
13930
Overall width
mm
2780
Overall Height
mm
3630
Axle base
1st ,2nd axle
mm
1470
2nd ,3rd axle
4300
3rd ,4th axle
1350
Wheel Base
mm
2304+2075
Front overhang/rear overhang
mm
2389/2064or 2376/2064
Front extension/rear extension
mm
2131/226 or 2144/226
Total vehicle mass in travel configuration
kg
42200
Axle load
Front axle
kg
16200
Rear axle
26000
Engine Model
WD615.338
Engine rated power
kw/(r/min)
276/2200
Engine rated torque
N.m/(r/min)
1500/1300-1600
Max. travel speed
km/h
85
Min. steady travel speed
km/h
2~3
Min. turning diameter
m
24
Min. ground clearance
mm
327
Max. grade ability
%
42
Approach angle
°
19
Departure angle
°
15
Braking distance (at 30 km/h, full load )
m
≤10
Oil consumption per 100km
L
40
Exterior noise level during acceleration traveling
dB (A)
≤88
Noise level at seated position
dB (A)
≤90
Main Technical Data Table for Lifting Operation
Max. total rated lifting capacity
t
50
Min. rated working radius
m
3
Turning radius at turntable tail
mm
3800
Max. load moment
Base boom
KN.m
2009
Fully-extended boom
1129
Outrigger span
Longitudinal
m
6.1
Lateral
7.1
Hoist height
Base boom
m
11.9
Fully-extended boom
44
Fully-extended boom + Jib
58.1
Boom length
Base boom
m
11.4
Fully-extended boom
43.5
Fully-extended boom + Jib
59.5
Jib offset angle
°
0, 15, 30
Time for boom raising
s
≤40
Time for boom extending fully
s
≤90
Max. slewing speed
r/min
≥2.0
Outrigger extending and retracting time
Outrigger beam
Extending Simultaneously
s
≤35
Retracting Simultaneously
≤30
Outrigger jack
Extending Simultaneously
≤40
Retracting Simultaneously
≤35
Hoisting speed (single line
Main winch
No load
m/min
≥130
Auxiliary winch
No load
≥130
Exterior noise level
dB (A)
≤118
Noise level at seated position
dB (A)
≤90