30Kn Hydraulic A Type Davit for Fast Rescue boat


Marine A-Frame Type Rescue Boat Davit meets the requirements of the latest amendments of SOLAS and rules of international life saving equipments (LSA),Revision bill of MSC.218(82) and resolutions of MSC.81(70),Revision bill of MSC. 226(82) to build. Rescue Boat Davit is Necessary life saving equipment for cruise, offshore oil platform and ship engineering. A-Frame Rescue Boat Davit can match any domestic high speed lifeboats achieving international advanced level.

A Type davit, rescue boat davit, fast rescue boat davit features:

Safety System:The davit is fitted with the following safety systems:The control levers are springcentred. In order to operate the davit relevant control, Lever has to be pushed in the required direction to cause the desired motion. Once the lever is released it will return back to centre position, and the activated motion will cease immediatel
Hook Safety : Set Limit Switch under 400mm to the head of jib to prevent from damage the headblock;
Protection Grade of limit switch is IP56

Electric Control:The electric control unit is placed on the column and contains the following controls/indicators:Main power switch ,"Power on" indicator, "Hoisting" button,Emergency stop buttonThe protection grade of the starter box is IP56; it also contains a anti condensation heating element .

Remote Control:Remote control for lowering, either from inside the rescue boat or control box .Stopping remains possible.

Steel Construction: All seams weld to be under Non-Destructive Detection Inspection. Hydraulic piping and fittings Materials of Pipes: Stainless steel .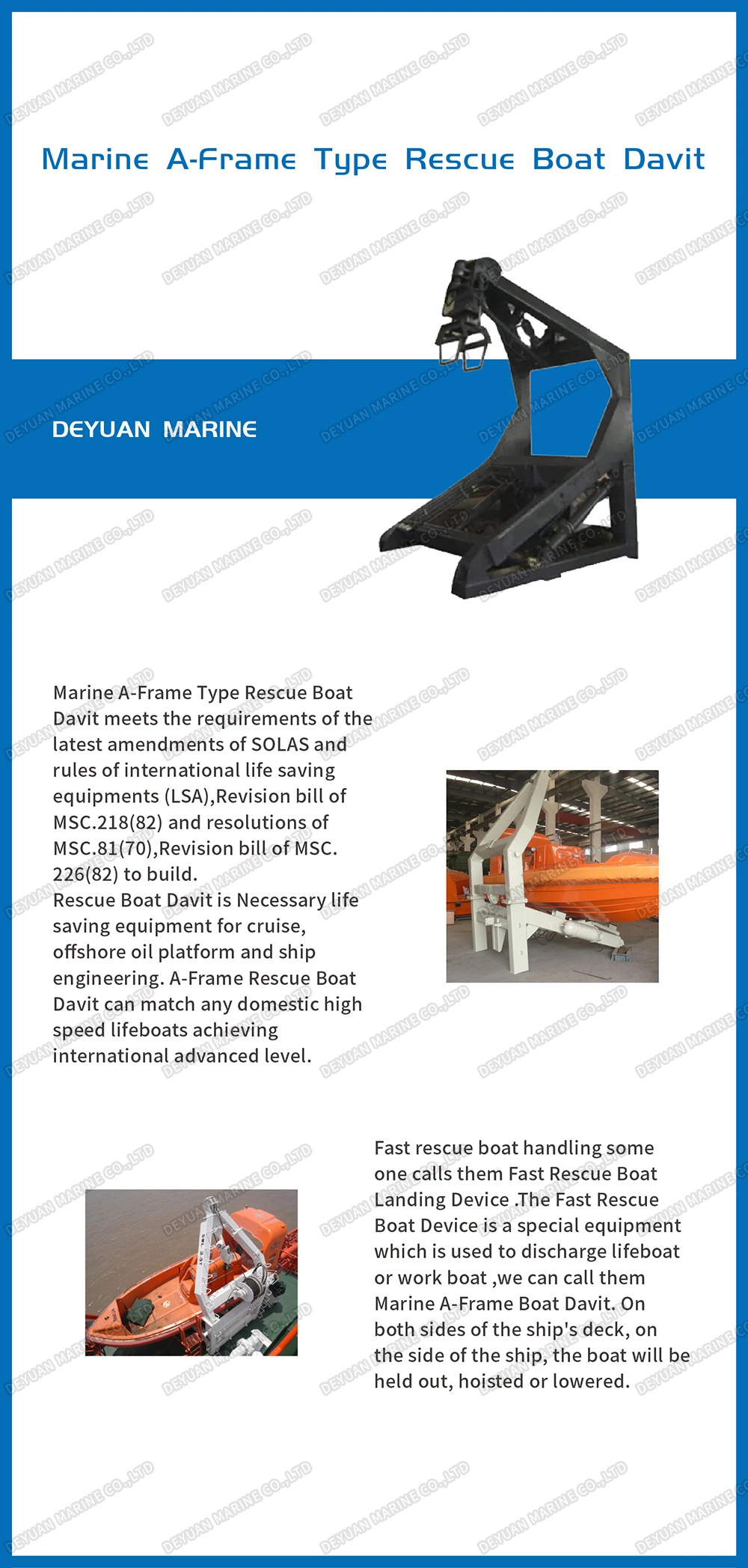 Technical Parameters of A-Frame Type Davit: