Product description
Stiff boom cranes are based on a pedestal slewing design with hydraulic cylinder luffing. The cranes are available in the range from 1t to 200t lifting moment and are supplied according to customer requirements. The stiff boom cranes can be delivered within a broad range of certifications and numerous optional features. Stiff boom cranes are typically used in dock, on fixed installations and in harbour conditions.

Main Features and advantages
The variable speed hoist will automatically adjust to the highest possible speed for the appropriate load.
Base on many year's design and fabrication experience of crane and other similar equipment.
Suitable for all kinds of ships and low power consumption and high efficiency.
Welded and high strength box boom for easy maintenance.
With Many safety protection devices---hook up limiter and overload limiter, emergency stop button.

Technial Specification
| | |
| --- | --- |
| SWL | 3t@4m |
| Working Radius | 1~4m |
| Hoisting Speed | 0~10m/min |
| Hoisting Height | 25m |
| Slewing Speed | ~0.8r/min |
| Slewing Angle | 360° |
| Luffing Time | ~45s |
| Tirm | ≤2° |
| Heel | ≤5° |
| Motor Type | Y160K-4-H |
| Motor Power | 15KW |
| Motor Speed | 1460r/min |
| Power source | AC415V, 50Hz,3P |
| Protect Class | IP56 |
| Insulate Class | F |
| Working Type | S1 |
General Arrangement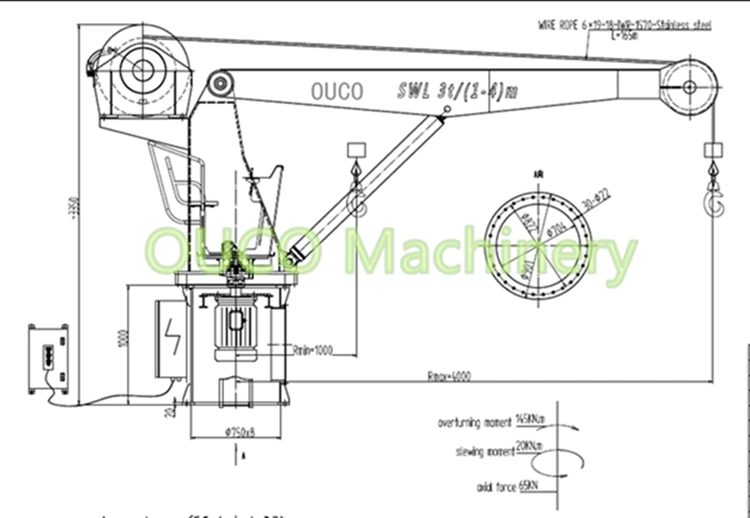 Customer Bulid
OUCO factory specializes in crane field for over 10 years. OUCO can design and manufacture any type cranes based on your requirements.
| | |
| --- | --- |
| Brand | OUCO |
| Spare parts | 1 set ( If needed, more spare parts are available to be provided according to customers' requirements ) |
| Warranty | 1 year ( If needed, warranty time is available to be extended according to customers' requirements ) |
Standard equipment
# 360 C* continuous rotation.
# -10 C*----+45 C* working temperature.
# certified A36 & S690 steel structure.
# pedestal ready for mounting or weld to vessel main structure .
# stainless steel grease nipples.
# precise step less speed control.
# simultaneous operations of 2 or more function.
# emergency for hydraulic stop device.
# visual and audible warning alarm

Optional equipment
# lower temperature package up to -40 C*.
# certification for personal lifting.
# wireless romote control
# operator cabin with AC and heating.
# ATEX package and certification.
# man riding winch.
# centralized grease system.
# multiple setting of load limiting system.
# automatic overload protection system .
# warning and working lights.
# load indicator system.
# other upon request.

Detailed Images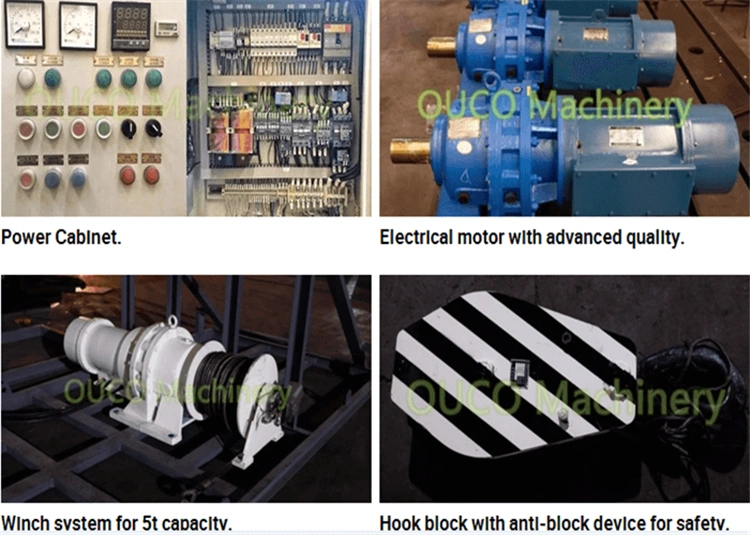 Packing&Shipping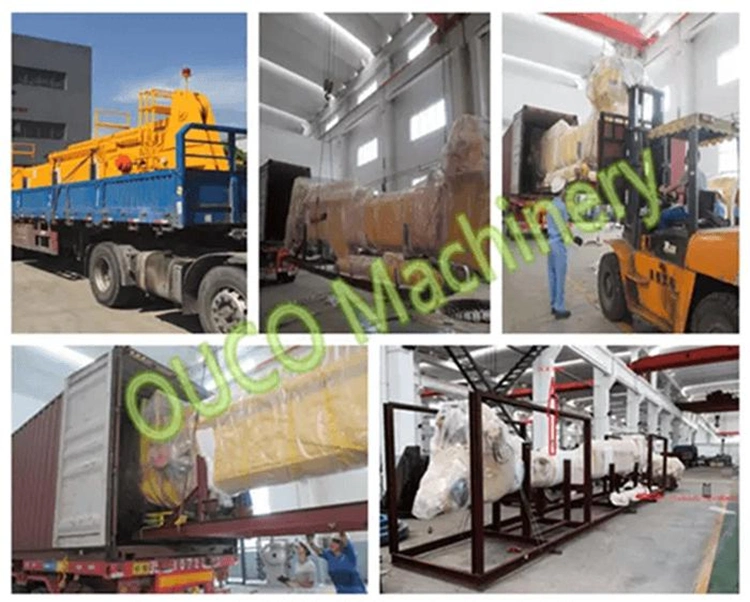 Company information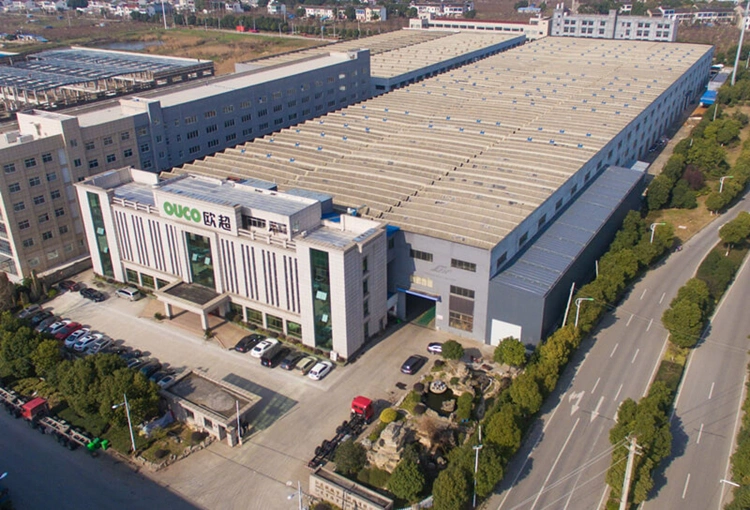 The OUCO Marine Group provides high quality handling solutions and access systems for the marine and offshore industries. Headquartered in beautiful Wuxi, China, OUCO Marine Group has subsidiaries in several countries and serves a global client base from strategic points in Europe, Asia, Africa, Australia and Middle East.
With years of experience, the OUCO Marine Group has its own designing team and manufacturing factory, excellent European management who has 47 years of experience on offshore business, which also provides after sales services overseas.
Our production line covers marine and offshore knuckle boom crane, telescopic crane, stiff boom crane, non-standard steel structure, more environmental-friendly operations and also truck crane with the range from 15t to 150t.
Our partners from Norway who build their cranes and winches in the OUCO Marine factory under a 100% European management engaged by; and in close cooperation with owners.
NorWave in Norway is also included in the European management and provide knowledge for our new development for "Hybrid" cranes, they will represent us for Europe.
Based in Singapore and experts for any kind of marine or offshore winches not limited in size or performance.
The winches produced in the OUCOmarine factory can be equipped with Active Heave Compensation (AHC) if required.

FAQ:
Q: What's the capacity of your request crane?
A: From 0.5t to 100t.

Q: What's working radius of your request crane?
A: From 1m to 100m.

Q: Which type of the crane should I choose?
A: Folding boom, knuckle boom, telescopic boom, stiff boom, etc. Some advices can be offered accordingly.

Q: Can this crane be explosion proof?
A: Sure, any extra function based on your requirement.

Q: Does your crane have safety devices?
A: Of course, all cut off limits and alarms for safety reasons.

Q: How can I install the crane to my vessel?
A: Our service engineers will go to the vessel site for guiding or ship the crane in whole piece.
Anything else? We will be pleased to answer all your questions and doubts.
For more information, please feel free to contact me as below.

Henry Gong



M.P: +86-18015355607
TEL: +86-0510-82737166
FAX: +86-0510-83915801
Organized Teamwork
Unique Quality
Competitive Price
Outstanding Serive