Forged Wheel for Overhead Cranes and Gantry cranes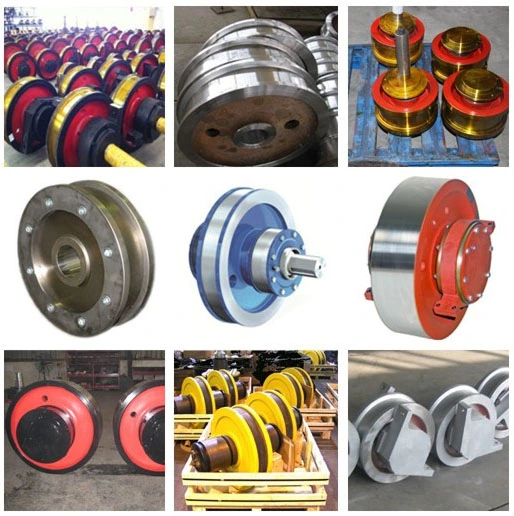 Part 1: Descriptions & Application
Wheels are machine-components with load bearing function.When selecting wheels, we can supply you with a broad variety of options.
Wheels can be separate wheels of diameter 300 to 1000 mm, complete wheel assemblies or as customer drawing or as design proposal approved by customer. They are widely applied on overhead crane, gantry crane, portal crane, transfering Carsetc.
Part 2: Wheel features:
-Material: 60#,65#,65Mn,42CrMo
-Heat treatment:hardening and tempering,high frequency quenching or carburizing quenching -Hardness: HRC45-55
-Depth:15-18mm
-Diameter: Φ300-1000mm
Part 3: Process
-Spectral analysis on raw material
-Cutting as requirments
-Forging with modular
-Surface harden
-Heat treatment
-Rough machining
-Normalizing
-NC machining
-Size detecing
-UT Detection
-Packing and anti rust paint
-Delivery
Part4: Sketch & Dimension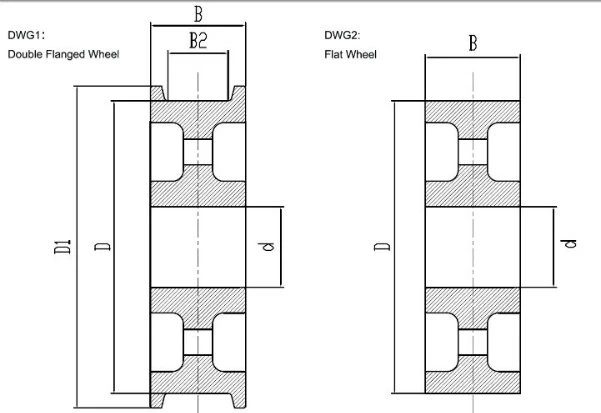 WHEEL PRODUCT

DIMENSION (mm)

DOUBLE FLANGED WHEEL

FLAT WHEEL

D

D1

d

B

B2

EBN200A

EBN200B

200

240

50-80

80

50

EBN250A

EBN250B

250

300

50-100

100

75

EBN300A

EBN300B

300

350

80-110

115

80

EBN350A

EBN350B

350

400

100-125

125

100

EBN400A

EBN400B

400

450

110-130

125

100

EBN450A

EBN450B

450

500

120-150

150

110

EBN500A

EBN500B

500

550

130-160

170

115

EBN560A

EBN560B

560

610

140-170

200

125

EBN630A

EBN630B

630

680

150-180

200

125

EBN710A

EBN710B

710

760

160-230

200

140

EBN800A

EBN800B

800

850

170-250

210

145

EBN850A

EBN850B

850

900

180-250

210

145

EBN900A

EBN900B

900

950

190-250

210

145

EBN950A

EBN950B

950

1000

200-250

210

145

EBN1000A

EBN1000B

1000

1050

200-280

220

145