Product Description
Stiff boom cranes are most suitable for general cargo handling and for service on board ships and offshore units where there is ample deck space. These cranes are equipped with a winch for lifting and cannot be hydraulically extended and retracted, and they lack a knuckle function.

Thanks to their simple design, stiff booms offer a cheaper alternative to knuckle booms, both in final price and maintenance.
They are designed and manufactured in conformity with the current Marine Rules and they can be customized on request.

Typical Options:
• Self-contained with integrated electro-hydraulic power pack
• Precise stepless speed control
• Easy maintenance
• 360 degree continuous slewing
• Emergency lowering Optional features:
• Star-delta starter for low starting currents
• Limit switches for slewing and hoisting
• External power pack
• Floodlights
• Portable radio electric remote control unit
• Different pedestal heights
• SUS fitting
• Enclosed operator cabin
• Designed for extremely low temperatures (Arctic climate)
• Personnel handling
• Load monitoring system
• Other features available upon request
Technical Parameters
| | |
| --- | --- |
| SWL | 5t@6m |
| Max Working Radius | 6m |
| Min Working Radius | 1m |
| Hoisting Speed | 0~12m/min |
| Hoisting Height | 10m |
| Slewing Speed | ~0.6r/min |
| Rotary Angle | 360 |
| Tirm | ≤2° |
| Heel | ≤5° |
| Power | 5.5KW |
| Protection Class | IP56 |
| Working Type | S1 |


Genernal Arrangement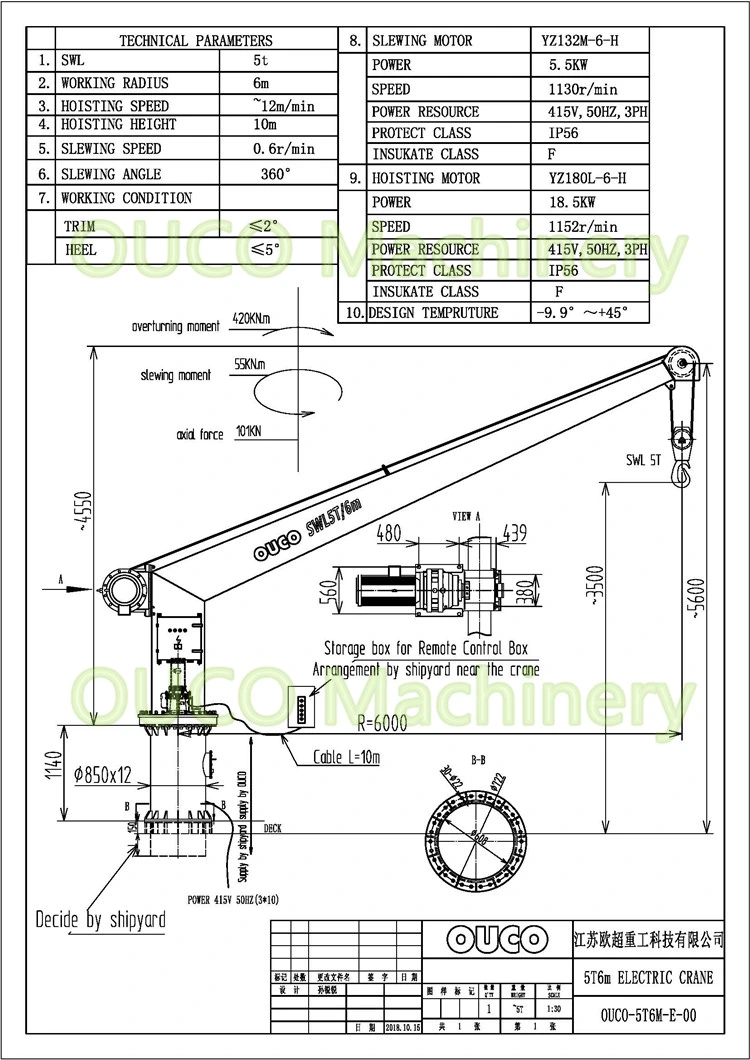 Product Details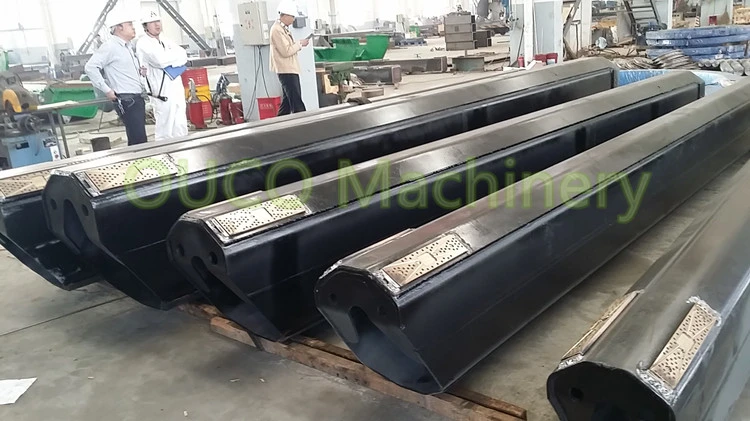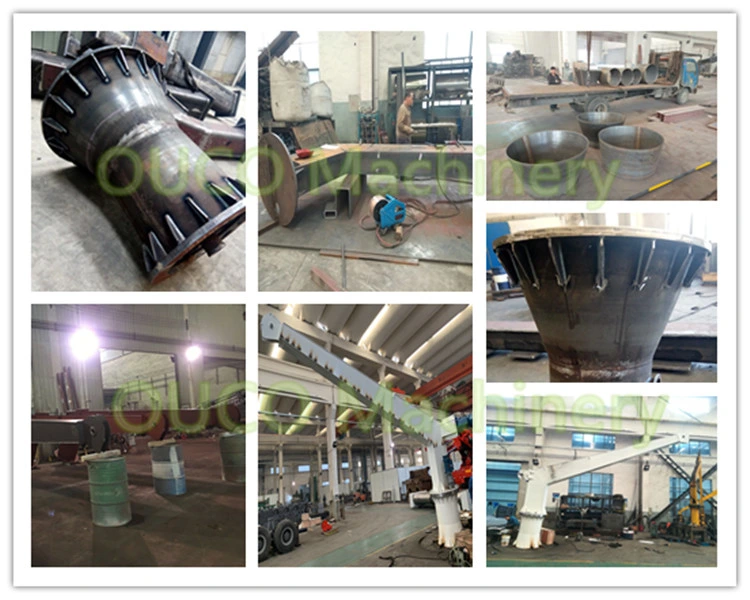 Packing & Shipping
Our company provides professional packaging and transportation for the products.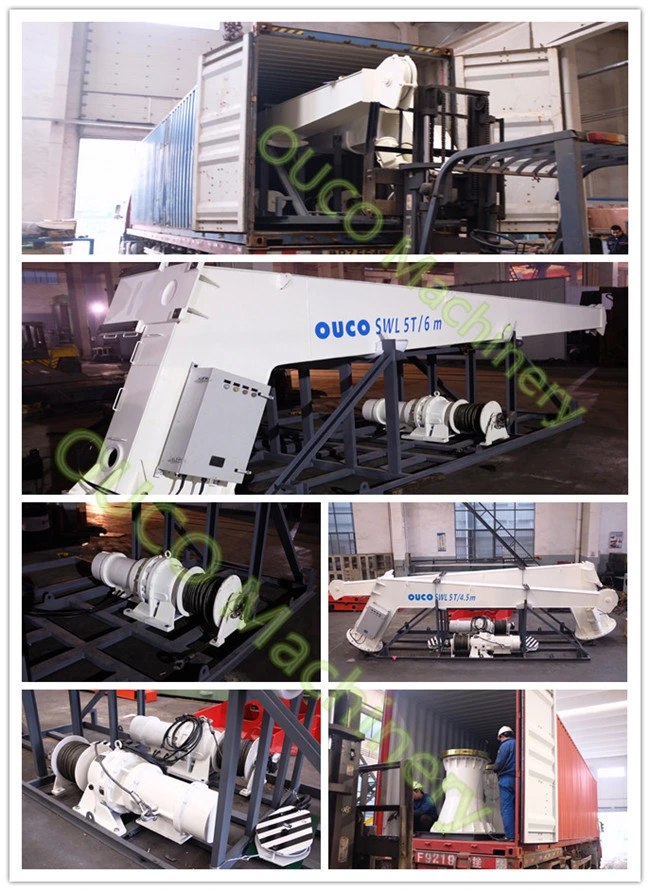 Our Certification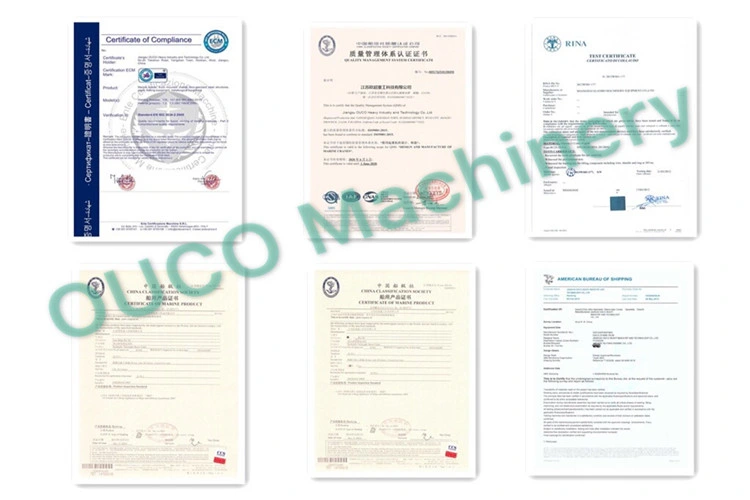 Our Company
With years of experience, the OUCO Marine Group has its own designing team and manufacturing factory, excellent European management who has 47 years of experience on offshore business, which also provides after sales services overseas.
Our production line covers marine and offshore knuckle boom crane, telescopic crane, stiff boom crane, non-standard steel structure, more environmental-friendly operations and also truck crane with the range from 15t to 150t.Port industry which includes cranes, hoppers and grabs.
OUCO Machinery can build any type of handling equipment, according to our own design, but also according to provided designs.
We build products according to any certification requested by the client and are able to build them for working in, and under extreme heavy circumstances for working tempertures of - 40C accordingly.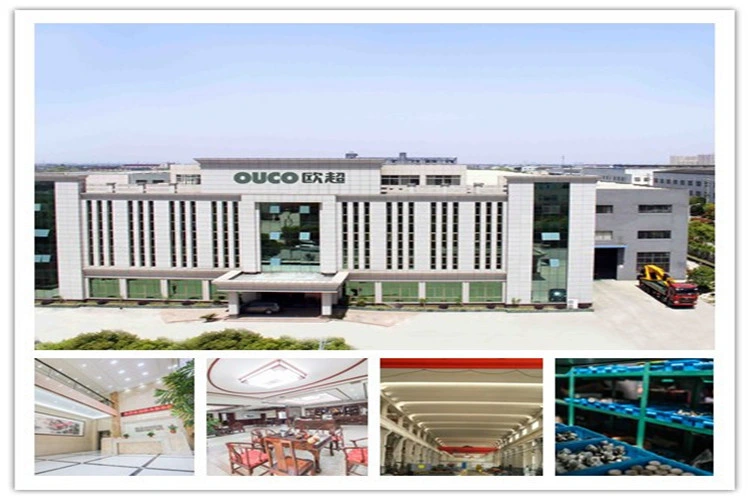 Workshop
Our company has modern production factory and experienced production workers.Modern operation technology and strict supervision system guarantee the quality of products.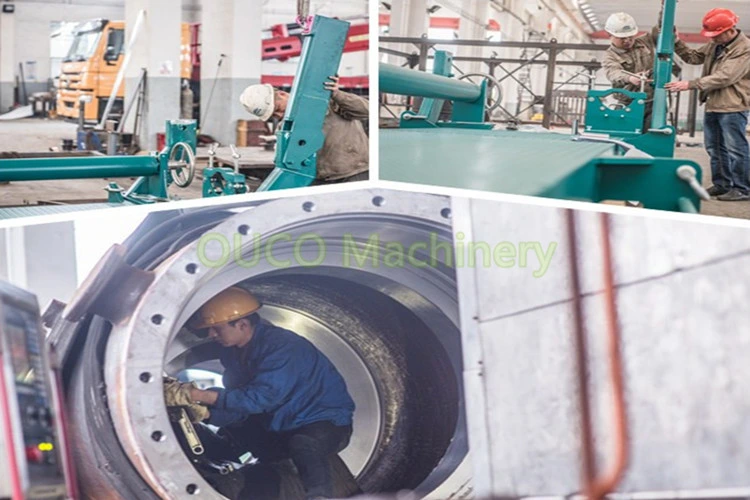 Once Cooperation Be Friends Forever
Our company participates in various exhibitions every year and presents our products to partners and customers around the world.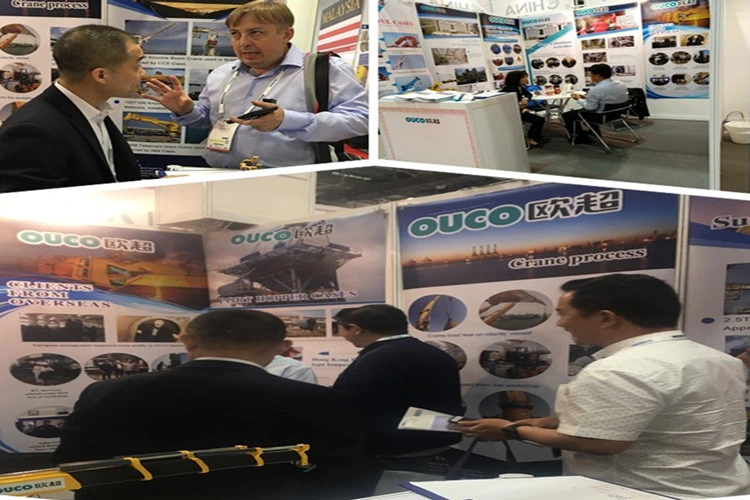 We have our own factory and welcome friends from all over the world to visit us.Once Cooperation Be Friends Forever.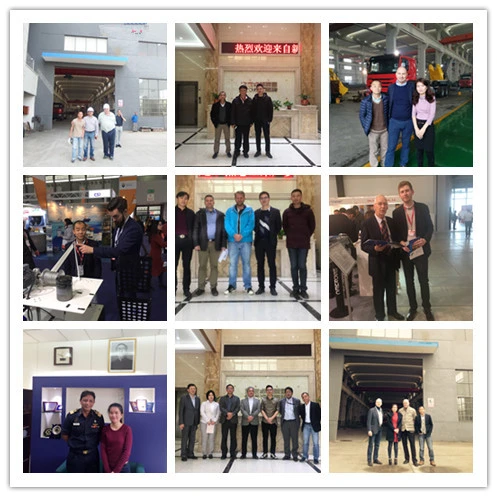 FAQ
1. Q:Can this type work in hazardous environment?
A:Sure! We can customize for you, acid proof or explosion proof, no problem for that.
2. Q:Can you provide the serious lifting tools?
A:Sure, we can provide any lift tools such as lift sling belt, lift clamp, grab, magnet or other specials as your requirement!
3. Q:How can we install the crane?
A:Our senior engineer can be your side to do the installation guide service and training. Moreover, our best sales can visit your country.
4. Q:Safety device
A:Overload limiter, Limit Switch (lifting and traveling), Interlock protection device.